The Cat's Whiskers, Curtains & Soft Furnishings ...
... welcomes you to her humble little website. Feel free to put your paws up, and relax a while.....
My name is Louise, and to cut a very long story short, I make curtains! Okay, so I make other stuff too, but they are my forte, so to speak...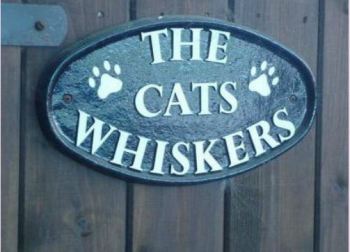 What do I actually make? ....Well...
Curtains: Hand sewn or machine sewn Curtains, Pelmets, Valances, Tiebacks etc
Fabric Blinds: Roman, London, Austrian etc. (all my blinds are made to be fully compliant with the new child safety regulations since March 2014).
Cushion covers: Square, rectangular, boxed, piped etc. (cushion inner pads also available in polyester hollowfibre or feather).
....and many other soft furnishing items, inc Window seats, Bolster's and Doorstops etc.
I offer a friendly and professional service, but as "The Cat's Whiskers" is just little ol' me, in a bid to spend as much of my time sewing as possible now, I now prefer that my clients take/supply their own measurements and drop off and pick up their orders from me here in Clevedon....
This is simply due to my increased workload in both 'new makes' and in 'alterations,' and as such, I no longer offer any measuring visits or hanging/fitting services. Please see the 'Curtain making' page for more details.
I can however, supply you with a copy of my 'Handy Measuring Guide' to enable you or your fitter to take your own measurements accurately. Just let me know if you'd like me to email you a copy, or supply your postal details if you'd like one sent through the post. This covers most aspects of measuring up for curtains, blinds, tracks, poles and pelmets etc and a bit more.
I am still happy to supply a wide range of curtain fabrics if required, (via posted out cut samples) feel free to check the fabric suppliers on the fabrics page.
I am a local supplier for I-Liv fabrics. Please see the fabric links page for details.
Most other designer's fabrics can be obtained by / through me too, should you be looking for something in particular, (just send me a message via email or from the contact us page) and I can look into that for you, e.g. I can also source fabrics from other designers such as Sanderson, Romo, Voyage, Clarke and Clarke, Ashley Wilde, Designer's Guild and Bluebellgray etc etc....and many, many more...
I'm also happy to use your own fabrics if you've already bought something or if you perhaps have a particular fabric in mind.
I make the majority of my curtains by machine these days, but as I was taught the traditional way, (by hand) hand sewn options are always available if that's also a requirement or if the type of fabric or project dictates.
I offer various heading styles,... pencil pleats, triple pleats, double pleats, goblet pleats, eyelets etc... along with various co-ordinating pelmets, valances, cushion covers and tiebacks, (both hand made or rope/tassel etc).

I can also supply a competitively priced range of linings, interlinings and blackout linings, depending on your project, along with many curtain tracks and poles....and cords and trimmings etc..